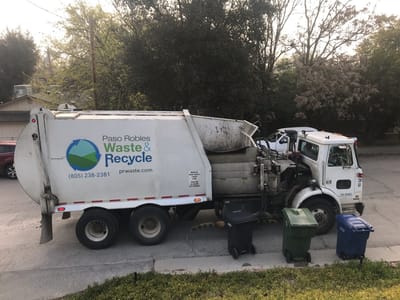 Paso Robles officials have not put the city's multi-million-dollar waste disposal contract out to bid since at least
1993
. City officials say they aren't sure if it has
ever
been bid.
Paso Robles' waste hauler proposes a 30+ percent hike in residential and business rates over the next five years. (See "The Facts" below.)
The city's current contract with Paso Robles Waste and Recycle, Inc. (PRW&R), extends through 2022. But PRW&R's rate hike request extends through 2027. Here's how
that's
happening: The city's current contract with PRW&R calls for an automatic five-year extension to 2027 on the condition that PRW&R "shall place into operation a Green Waste and Organic Processing Facility" and secure "all necessary permits and initiates operation" by 2018.
Public Works Director Dick McKinley wrote in an email that PRW&R "met that benchmark." He told me: "PRW&R pursued a compost facility at the City's landfill but that was not successful for a number of reasons. PRW&R was able to work with a company in the area to set up the required Green Waste and Organics Processing facility... this met the franchise requirement and thus added the five years."
Asked to see the agreement between the two companies, McKinley wrote, "I'm not certain that there is an agreement, and if so, it is a company document, not a City document."
Asked how and when the agreement was memorialized, McKinley wrote, "It was about March of 2018, but I can't remember if we sent an email or confirmed by phone call." In a subsequent email, McKinley wrote that he accepted the agreement for the city "by a phone call" between him and PRW&R.
Those were the exchanges resulting in a five-year contract extension worth
more than $30 million.
So one is left to wonder -- how can we as citizens know if the proposed rate increase is fair or not, if we don't have bidding on the contract, thus providing information needed to make a halfway intelligent decision?
Can we trust a monopolistic agreement to always provide the best service for the best price? Are we supposed to just pay up and shut up?
In the interest of fairness and the best, most economical waste hauling service for Paso Robles ratepayers, this is one contract that begs to be put out to bid.
If not, why not?